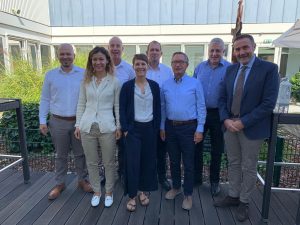 Dear members, like most people we are all largely confined to working from home, which presents its own issues, but doesn't mean that activities within the ESA have stopped. For many at least it means not spending so much time in the air! At the moment, all face to face activities of the ESA have had to be cancelled or postponed, so there is nothing new to report from our daily businesses as everyone is in the same boat. However, activities and planning do continue, and we want to keep you informed, so we will circulate the ESA newsletter regularly and publish information concerning key dates and activities on our website. The online/phone meeting schedules will be posted on the website and invitations to each meeting are sent directly to you.
It was a huge disappointment to postpone this year's AGM, I believe only the second time we have had to do that. The first was the meeting near Gatwick in 2010 when a certain Icelandic volcano Eyjafjallajökull erupted. A lot of arrangements had already been made for this year, and we know that many of you had booked rooms for this year's AGM. The hotel has been very supportive and whilst we have not arranged an alternative date or venue, we hope to return there. I would like to thank Lenzing Plastics and Klinger for all their help with organising this event.
In this newsletter you will find key information on the Less Plastics initiative to reduce single use plastics. Whilst this remains an important topic to the ESA, it will be put on hold until the world returns to near normality.
As many of you will also be aware, we now have a full time Technical Director in Ralf Vogel. His plans and work will be communicated through the ESA newsletter.
We need your help
To help us remain relevant to all our members, we are looking for assistance in collating coronavirus updates from each country. Below you will find a link to the BBC, which is very informative and offers a large number of additional links. We have also included some other general links from the EU and the WHO to provide examples of what we are looking for:
The same information will be available from each country within the EU from either a governmental body, media organisation or institution. Could you provide relevant links to this resource or would you be willing to act as the messenger to help get a clear picture to other members operating in the same country? We would like to provide this to all members, as many of them have facilities throughout Europe and a local source of such information would be helpful. We will post this to the website under Coronavirus – helpful links. If you are able to offer your help with aggregating links, contact Mark Neal at markneal@europeansealing.com.

We hope that normal activities can resume but more importantly we hope you are all safe and well, and we sincerely look forward to hopefully welcoming you to a rearranged AGM in the autumn.
John Morton, Chairman, ESA