Sealing Devices Fugitive Emissions Reduction Document
Sealing technology is involved in virtually all of the sectors covered by the Industrial Emissions Directive (IED) 2010/75/EU. Correct selection and use of the appropriate sealing technology is fundamental in the reduction of fugitive emissions and the achievement of IED compliance. Yet, only limited information and guidance on sealing options is available in some of the early BREF notes. For this reason, the ESA has developed a Sealing Devices Fugitive Emissions Reduction Document to help customers to achieve compliance through the use of the best available techniques for sealing:
bolted flange connections
rotodynamic equipment
reciprocating shafts
valves
Although the document is aimed primarily at the industrial sectors which are covered by the IED, it is applicable in virtually all process industries.
For an industrial sector not covered directly by the IED, the sealing industry took a lead in developing this BAT guidance note voluntarily. This initiative has been well received by the European IPPC Bureau and the document is now used as the basis for sealing technology in many of the formal BAT Reference (BREF) notes from the European Commission.
BREF NOTES
Industrial sectors covered by the IED regime have been charged with collating their own information base for developing their own BREF note. Various Technical Working Groups (TWG's) have been established across the European Union from within each industry in order to develop the initial BREF document. These same TWG's are re-established as necessary whenever the BREF review process is initiated (intended to be every 3 years, where appropriate).
The BREF notes were considered initially to be specific for each industrial sector covered by the IPPC regime (so-called, "vertical" BREF notes). However, it became apparent that some BAT concepts are applicable across all (or at least a variety of) industrial sectors, and so a number of "horizontal" BREF notes have also evolved. Here is a forward view of the BREFs currently being worked on: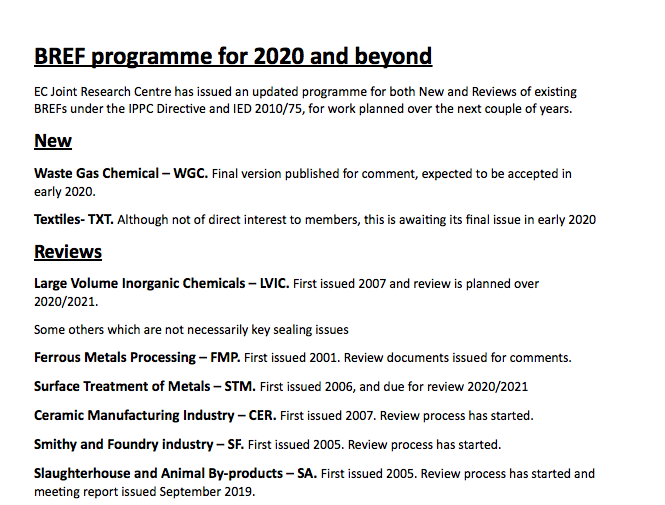 For full details of BREFs and programme follow this link: https://eippcb.jrc.ec.europa.eu/reference/