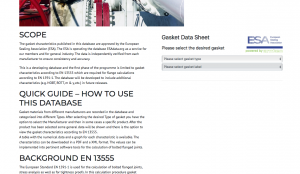 On the 9th and 10th December 2019 the ESA Gasket Task Force 'ESAData.org' met for the first time and finalised the review process for publishing gasket characteristics on the new ESA platform. The process is based on members submitting test result of their different gasket materials. After this the gasket characteristics will be checked and approved by the Task Force to ensure that they are in line with prEN 13555, which is under review at the moment.
To all ESA Gasket Divisional Members!
If you have not supplied your gasket characteristics so far, you have until the 24th January 2020 if you wish your data to be on the first release of the new ESAData.org site.
Please contact Manfred Schaaf if you have any concerns or wish to discuss the process or how to register your materials.