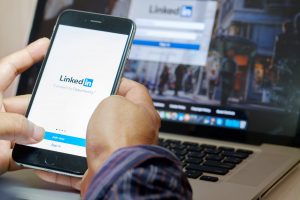 LinkedIn is the leading social networking site for professionals, which makes it a necessary communication channel for B2B companies. Your company's profile or LinkedIn Company Page helps you build brand awareness, promote products and services to customers and prospects, and recruit talents. But if you want to get even more from this social network, you should try LinkedIn advertising.
Why advertise on LinkedIn?
LinkedIn has an active audience over 630 million professionals. Unsurprisingly, it is the leading channel for B2B marketers. In fact, 92% of B2B marketers say they include LinkedIn in their digital marketing mix.
One of the biggest advantages of advertising on LinkedIn are its powerful ad targeting options. You can reach professionals by their job title, function, industry, location and more.
On LinkedIn you can target based on what people do professionally, rather than personally: by particular job titles, functions or even levels of seniority. Other targeting criteria you can choose from are location (this is the only mandatory targeting field), company, demographics, education and interests.
LinkedIn's advertising platform Campaign Manager
Linkedin Campaign Manager is where you can set up ad accounts and run advertising campaigns. LinkedIn's advertising platform has an objective-based philosophy, which means you can run campaigns around predefined goals, such as brand awareness, post engagement or lead generation.
Among the platform's features that will help you meet those goals are dynamic visual reporting that shows you only the information that matches your search and filter settings, a detailed breakdown of the actions your campaigns generate (clicks, likes, shares, comments and follows) and a view of the demographic categories of users who click on your ads.
To sign into Campaign Manager, you will need a LinkedIn account and a credit card. You will be asked to enter an account name, select a currency and link your account with your business page.
Defining your objective
Before running ads, you must choose the objective for your ad campaign. To set up an objective you must ask yourself what you want your customers to do after seeing your ad. Perhaps you want more people to become aware of your products or services or visit your website, or you want to generate more leads, or promote a job vacancy.
LinkedIn advertising supports objectives from all stages of the sales funnel – awareness, consideration and conversion. You can select from the following objectives:
Brand awareness
Website visits
Engagement (clicks, social actions and follows)
Video views
Lead generation
Website conversion
Job applicants
Types of LinkedIn Ad formats
 LinkedIn offers several ad formats to choose from: 
LinkedIn Sponsored Content is native advertising that appears in the feed of LinkedIn members you want to reach. It looks similar to a regular post but has a 'promoted' label and includes a CTA button. You can create your promoted post with a single image, a carousel or a video.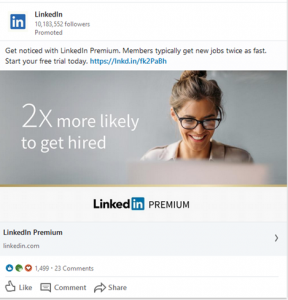 Message Ads, previously known as Sponsored InMail, are messages that go directly to your target audience's inbox and can include a CTA button, as well as a lead generation form to collect leads.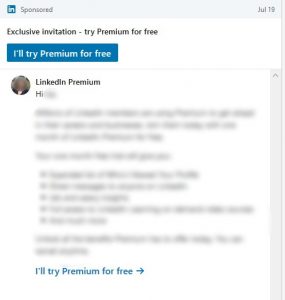 Text Ads are simple pay-per-click (PPC) or cost-per-impression (CPM) ads that appear in the side bar and as a banner at the top of the homepage. They can include a small square image, a short headline and short text.

Dynamic Ads also appear on the right side and are similar to Text Ads, but they can be uniquely personalised for the targeted viewer by featuring their profile photo, company name, job title, etc.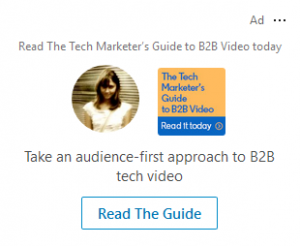 Setting up the budget
When it comes to setting up the budget for your campaign, you have three options: cost per click (CPC), cost per impression (CPM) and cost per send (CPS). When you run a Message Ad, you pay for each InMail that is successfully delivered.
Ads on LinkedIn work in an auction-type manner, which means that you will also have to enter your suggested bid, your daily budget, start and end dates and total budget. LinkedIn's platform automatically recommends a bid price for your selected target audience. Your ads will compete with bids from other advertisers, but LinkedIn rewards engagement, meaning you can win an auction even if you are not the highest bidder.
Don't forget to measure and optimise
LinkedIn Campaign Manager lets you track key metrics to evaluate your overall ad performance and see how your campaigns are performing in relation to your budget and social actions. You can use the insights to improve your ads – refine your targeting, adjust your budget, edit the creatives, copy's, CTA buttons, etc.
A good tip to follow is to start with a smaller budget and test different types of ad formats to see which one works best.
If you are ready to start advertising on LinkedIn, we recommend you check LinkedIn's Ad Tips & Best Practices, and wish you lots of success!
---
Source: https://business.linkedin.com/marketing-solutions/blog/linkedin-b2b-marketing/2016/linkedin-advertising-101–measurement—optimization