With millions of people around the world staying at home due to the coronavirus outbreak, social media usage has been increasing. Staying connected (not just with friends and family but also with colleagues and clients) is now more important than ever, so you shouldn't shy away from posting on LinkedIn. You should however be mindful of the situation and acknowledge that it's not 'business as usual', as some types of messages can come across as insensitive and tone deaf.
LinkedIn has offered advice on what businesses and individuals should be sharing during the pandemic. Here is a quick summary:
Seeing how others cope with the situation can really help in these times of heightened anxiety and uncertainty. You can share how your workday has changed, what your home office setup looks like, a screenshot of a video conference with your colleagues, useful tools you came across, etc.
Focus on the positive – something that helped you may very well help others too.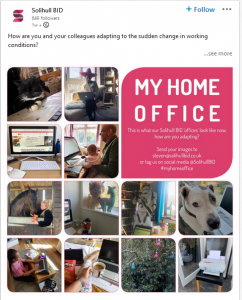 Use hashtags to find conversations and share other people's content
There are more ways to find relevant information and conversations on LinkedIn, but the easiest way is by using hashtags. Type the hashtag in the search bar at the top of page and click on it to see the content, related to its topic in your feed. If you click follow, you will regularly see updates in your feed that include those hashtag topics. If you click on 'Discover more' in the bottom of the left box on your LinkedIn homepage, you will find a recommended list of hashtags that relate to the ones you already follow.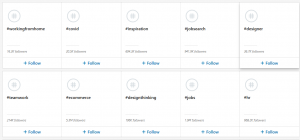 Don't forget to add relevant hashtags to your own posts so that other people can find them.
Offer your unique perspective
There is no rule that on LinkedIn you must only post about work-related topics. According to LinkedIn, the most successful posts are those about lessons, learned from personal lives, team appreciation, sharing words of encouragement and other ways of spreading kindness.
One thing that this crisis has shown so far is a strong sense of community. Now is a good time to share how you are helping fellow local businesses or individuals in your area.
Follow trusted news sources and share updates
One of the ways you can take part in the conversation is by following the latest news helping others stay informed by sharing articles to your feed. LinkedIn acknowledged the importance of accurate information by setting up a global team of more than 60 editors that are curating news about the coronavirus from trusted sources. Moreover, in the new feed section 'Trending News' LinkedIn features reliable updates from experts such as the World Health Organisation and Centres for Disease Control and Prevention.
Learning opportunities on LinkedIn
Because of the measures, some people now have extra time on their hands and wish to use it to catch up on learning and improving their skills. LinkedIn has one of the best e-learning platforms on the internet, called LinkedIn Learning. It offers video courses taught by industry experts in software, creative, and business skills and a 1-month free trial.
As a response to the coronavirus outbreak, LinkedIn has made: "16 LinkedIn Learning courses available for free, including tips on how to: stay productive, build relationships when you're not face-to-face, use virtual meeting tools (Microsoft Teams, Skype, BlueJeans, Cisco Webex and Zoom), and balance family and work dynamics in a healthy way."
For more information, check out LinkedIn's articles: