The European Sealing Association has added to its collection of online training courses with a new course on compression packing.
Recognizing the vital role that compression packings play in virtually every industry, ESA's Technical Director David Edwin-Scott and a team of sealing specialist members of the Packings Division developed this new course to help engineers, technicians and users of packings identify causes of problems with packing performance and learn how to avoid them.
The 'Compression Packing – Troubleshooting' course complements the earlier 'Introduction to Compression Packing' and will benefit anyone responsible for packing selection, as well as those involved in fitting and replacing packings – particularly those new to the industry.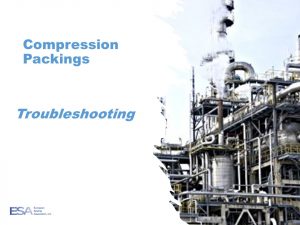 The course is available free of charge and can be followed at the student's own pace. It consists of short video lessons that:
demonstrate various types of packing failures,
suggest their possible cause,
give guidance to avoid or remedy the problem.
To learn more and register for this course, visit: esaknowledgebase.com/esa-new-courses/.